Here's a layout I've been wanting to do ever since I saw the layout in the PageMaps book.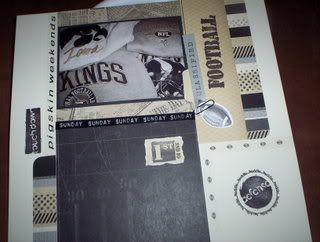 I figured out my paper layout (CTMH Game On) and then went to take the picture. Ended up printing them as Antique and I love how they blend with the papers and the yellow on the letters stands out a bit.
There's hidden journaling under the tab that says football. Talks about my addiction to football. How in the fall we have football on from 10 AM Sat through 10 PM Sunday evening and then again Monday night.
Looking at the completed layout I'm wishing I would've left off the touchdown stamp, or stamped it on paper and overlapped the photo a bit. But again it's done. =)