My thoughts and prayers are with Martha this weekend as she bought a weekend get away package to go to AZ and see her uncle. I hope that she's able to get some great pics to remember the weekend.
This is our weekend to relax and hang out at home. I've accomplished a lot around the house today and most importantly made time to reorganzie part of my scrapping area. I am so happy to walk down the stairs and see the open area by my scrap space and I can't wait to make a lot of great pages there. I'm hoping tomorrow has a little more sun so I can take some pictures.
Otherwise my scrapping priority was to make the SS sketch challenge #10 which I accomplished tonight.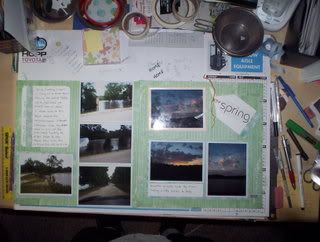 LHS
RHS
Tomorrow I need to make some cards to give to my sorority sisters and work on the taxes (yuck!).
Have a great weekend everyone!