We spent the weekend with my husbands sister and her family. At the last minute I threw in some card making supplies. I had fun working on cards Friday night and Saturday morning.
I took a bunch of stamps and the only papers were the Creative Memories storybox sets and my cardstock bases. Used a bunch of stamps for the first time and no new techniques.
Saturday cards
The middle card in the top row - I need to add a cream colored circle to the gold circle.
Sunday cards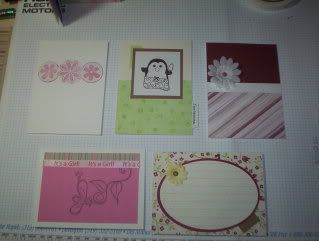 I tried to make the theme pretty generic so I can use them for any occasion. Having a limited amount of paper was an interesting challenge for me. At times I was frustrated with the papers available but I'm happy that I made it work and got a nice stack of cards.
My supply is growing and it makes me happy.