I think both Martha and I are a little overwhelmed with non crafting responsibilities right now. Plus the big holiday weekend is fast approaching. My mom is still waiting for me to take her on the cemetery rounds. It's something I enjoy - a small connection with 3 generations of my family.
I had another cake class this week. The teacher said I had great improvement over last week. We started making roses - not to sure about those.
Here is my clown cake...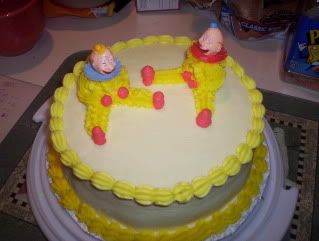 Have a great and safe holiday weekend!