A few weeks ago when I was on a mini vacation to my sister in laws house (we lovingly refer to it as Hotel M.) and she has an awesome craft room where I set up for a morning card making session. My juju wasn't flowing but I came home with these cards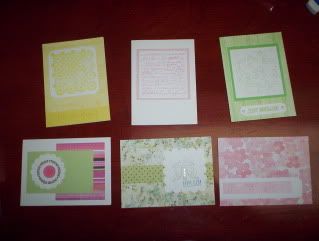 I gave them to my secret sister as part of my big reveal gift and she loved them so much she's not sure she can send them out. :) That and the drool a lot of ladies were doing helped me out a lot!
Last week I started a new adventure. A friend and I signed up for cake decorating 101. I've played around with it before but wanted to learn the right techniques and I want to learn to make roses. :) Monday I decorated my first cake. Now no laughing. I know my letters aren't spaced right and they are wobbly. I was tired of being crammed into to 2 feet of space while the lady to my left had one six foot table and another 6 inches of mine. sigh! She so did not follow the towel marks my area rule.
Any way without further ado here it is...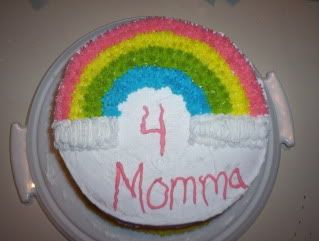 I thought I'd mark the cake as mine since I didn't get a Momma's Day card from Buddie.