I spent a lot of time relaxing and creating this weekend. No paper crafts this time, other crafts were calling.
I've been wanting to make a fall banner but wanted to do something besides "happy fall" "happy harvest", etc. I read
Elsie's blog
and thought about making her leaf banner. Thinking of my family I changed it to footballs.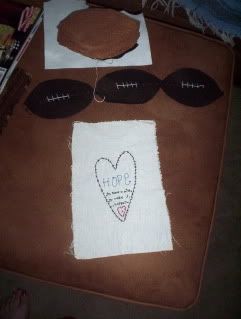 I cut them out of felt and I used embroidery floss to chain three together to get my DH's opinion. Then I got the rest cut out. I need some busy work later this week and this will totally fit the bill.
I found the Hope pattern free on a
blog
and love how it turned out. I framed it tonight and I'm going to put it on my desk at work.
My mom had some projects for me too....
a little fall basket for my aunts entry way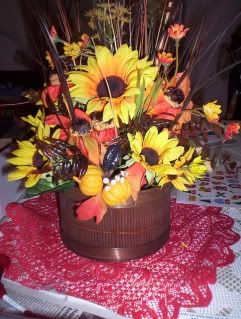 a little wreath for my aunts front door.
I love that my mom introduced me to a lot of different crafts/hobbies growing up. For as long as I can remember we have been creating things for decorations or gifts. I don't remember what I learned first sewing, arranging flowers, knitting or embroidery. I told her this weekend that I have too many hobbies but I honestly wouldn't have it any other way.