This year I decided to enter some items in the community section of the county fair. I took two pictures and two scrapbook pages that were judged together. I was pretty happy with my results considering I've never had anything judged.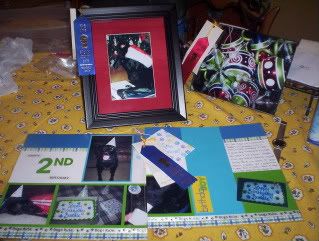 The red matted picture of Buddie had a comment of "nicely presented Blue". At first I wasn't going to enter this picture because he had the doggie hollow eye but I love the pic. I'm glad the judges could see past that.
The ornament picture had a comment of "no center of interest red". Whatever I love the picture and will enjoy having it on my wall during the holiday season.
The scrapbook pages had a comment of "good craftsmanship well done Blue" I think these were the only scrapbook pages entered so the comment made me happy. Plus I had 2 things that were cut over both pages.
All in all it was an interesting experience. Next year I will be more particular about the pictures I take if I take any. I really want a pink ribbon so I need to research what's needed to get that. Hopefully I can plan ahead. =)