We do!
Finished Course 1 a few weeks ago and this was my final cake - Loved making Wilton Roses once I figured out how to hold the tip.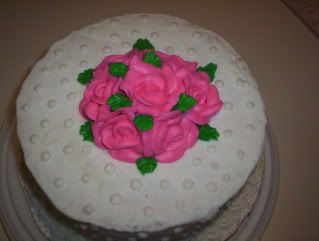 Now we're on to Course 3, I'll take course 2 next.
This class introduced me to fondant - not so sure I like working with it but mine turned out awesome. The teacher was shocked at how well I did.
So without further ado I present my present
And this is why my scrapbooking and card making has been on a decline.
Anyone want to place an order?